I find a pleasant surprise after I get home.
In 1978, I began to translate cartoons from MAD &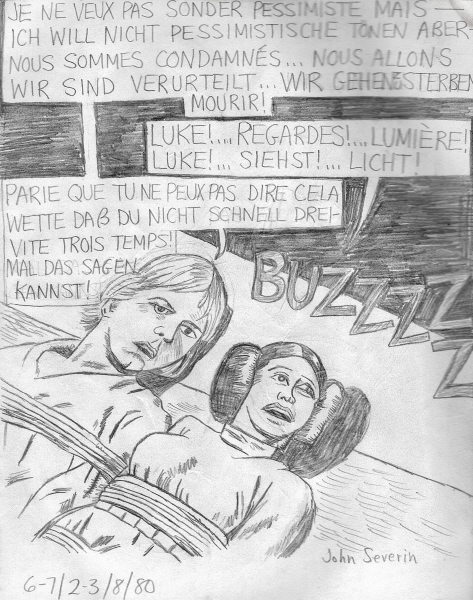 CRACKED into French and German, which continued into 1980!
Mon 21 Jul R
What a day following a wild week. Thursday I saw "Empire Strikes Back", and, of course, I grabbed the book on Saturday. I was in the production room today when Dxxx Yxxxx was forced to talk to me. (a great antagonist).
Then, at 4:07 PM, I received a delightful call giving me the elusive assistantship I've been waiting so long for. I don't think the news settled in yet, or maybe I had expected it all along. Somehow I think I was supposed to go on this route.
Memory:
E Kepler Sones asked me to come in early tomorrow. I replied I'd be there today if it hadn't been so late in the day. I'll also inform welfare that I'm off it in September (Fantasy is SO much better than reality.) I was SO happy that I turned on "Hot Stuff" and danced around the room to Donna Summer. (The song was a year old at that time.)
Wed 23 Jul R
I thought I'd get some board training in today, but Bxxxxx Mxxxxx failed me again, so there goes five hours. At least I got all my letters done yesterday. Yxxxx and Joel Rosenthal had an altercation this morning of which I experienced but did not take part in. Also my latest production endeavor (for a PSA using Gerry Rafferty's "Royal Mile") may get on the air. I still have a delightful letter to write Fred Stefon (the mentor who steered me into history and who wrote a letter for me to get into graduate school and the teaching assistantship).
M Note: I was trying to get on the air at the time, so I needed board training. I could not stand Yxxxxx, who eventually went to jail for armed robbery. Bxxxx Txxx made a vague reference toward placing my creation on the air. It never happened.
Sun 27 Jul F
When I was at Mass yesterday afternoon, I thought about Terry, because his birthday is on Monday. He'll be 22, and his birthday falls on the same day of the week as when he was born. When I first learned about it, I told him he was born on a Monday. He didn't take it well, telling me he didn't like Mondays! God bless Terry Fox on his birthday. I just hope people there know it, and wish him many more!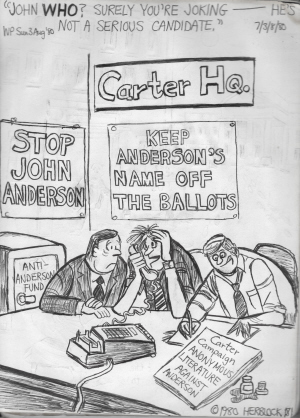 Fri 1 Aug R
One month to go until mu situation changes, probably for the better. I started writing in the back of this diary my reality fantasy "Summer at Dub?, Ya Deaf 'Em", a play on the call letters of the station.
Thu 7 Aug R
It's been as hot as Tatooine the last week or so. Bxxxx Mxxxx puts me in a dither with his constant procrastination to get a board test. I'd like to get the silly thing over; it's like a paper fence which I can't penetrate. Do I look incompetent?
I'm also working in the fantasy at the middle of this notebook, but the heat makes it difficult -- in fact, laborous -- to write it. I find it harder to do the fantasy parts, which is not so unusual because reality is simply recording as this diary is (but it takes much more effort to place in the fantasy).
Perhaps things will get better at the station. Bxxxx Mxxxx just asked me an asinine question about my allegedly labeling duplicates. I stopped doing that last April. Do I look incompetent?
Oh, well, I have a (History) 17 test tomorrow, so I must go home and study some more. I can't just sit here and listen to Gilbert O Sullivan's Alone Again (Naturally)
Sun 17 Aug R
Greetings! Last night, Mom called about giving (Great) Aunt Margaret a graduation picture of which I have none. Only two weeks to go until the grand weekend. (Aunt) Madeline and (Uncle) Bill are coming because the class reunion has been canceled. I have just about finished the first story in this book. All I must do is to tie up any loose ends.
Tue 19 Aug R
Bill Lxxxxx dropped into the (college radio) station today, so I spent much of the afternoon bavarding. I still don't have the epilogue finished, although he read it. Todd Jeffers (a local discjockey) is leaving, so I'll have to bring back Charles Nelson Reilly for (encounters in my comic) Phyllis Diller.
Fri 29 Aug R
Here I sit in anticipation of company, and Mom's past due her estimated time. I'm playing her album in the interlude. Somehow, tomorrow does not excite me.
I feel as tired as a housewife such as one of those characters in "Backstairs at the White House". Yesterday I scrubbed the lawn chairs outside, unfortunately I scrubbed the shower beforehand, and I dusted and swept out this room and defrosted the refigerator.
Today I scrubbed the blinds, the windows, and washed the curtains (including the shower curtains), besides the laundry, bought food in the Labor Day rush and coming within a dollar over my available money. I surely hope that Mom brought that $25, or else I'm broke within a dollar.
My sister sent me a card and letter which mollified my anger and disappointment of her not coming.