Aron Ralston at his middle school on Tuesday, 3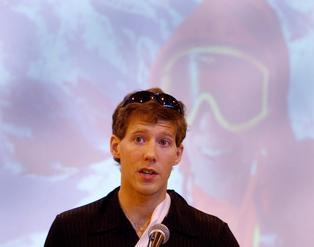 June 2003 (AP)
Edited Text of Speech (C) EW Scripps, 2003 and Aron Ralston
..."I want to talk with you today about three types of freedoms and corresponding responsiblities that you will encounter in the coming years. First and most important, is the freedom to define yourself and the responsiblity to do so with integrity. Second is the freedom to interact with others and the responsibility to treat others the way they want to be treated. (Note: the Platinum Rule) Finally, you will have the freedom to be happy and the responsibility to provide that opportunity for others as well.
"First and foremost, you have a responsibility to yourself always to act with integrity, follow your passions, and overcome your fears. Don't let other people tell you who you are, don't settle for their expectations and dreams for you; you must define yourself, you must great your own expectations and dream your own dreams...my decision was the result of a longtem and ongoing process of discovery -- a process we each must undergo.
"Realize, though, that this process of discovery is not easy; but during times of hardship, one must know how to enjoy the journey without giving in to frustration...
"My recent experience in Blue Jean Canyon is an adjustment in the pursuit of my dreams, but there is no failure in my situation...I am continuing my pursuit of my dreams, my lifestyle. Again, let me stress that the only person who can hold you back is you. Don't be attached to the pathway, it is merely a starting plan to flexibly adapt -- follow it as you create it to negotiation obstacles along the way."